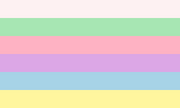 Plushyic is a toyyic aesthetigender related to plushies/stuffed toys. This can be any plushy one is connected to or identifies as and can also be related to any aesthetics related to plushies including cuteness. One can be plushyic and have any gender expression/presentation.
Similar terms include plushgender.
Plushyic Genders
History
Plushyic was coined by Tumblr user IRL-Cindy-Lennox and posted alongside clayic, crayonyic, dollyic, puppetic, puzzleic, squishyic, teddyic, and toyyic.[1]
Flag
The flag was designed later that year by Genderless-by-Design (formerly Genderquirked).[2] The flag's meanings are currently unknown.
Resources