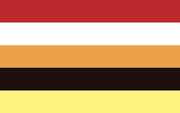 Mutogender is a subcategory of genderfluid in which one's gender changes in response to a specific situation. It can include things like one's location, the time of day, the people one is around, etc. It can be a gender on its own, or an umbrella term.
Similar terms include aerogender and evaisgender.[1]
Mutogenders
[
]
See List of Mutogenders.
History
[
]
Mutogender was coined on or before July 11, 2014 by Tumblr user 3785091890821 (formerly Creativeflipflop and Houisa).[2]
Flag
[
]
The flag was coined on August 28, 2015 by pastelmemer from pride-flags-for-us. The colours were chosen to resemble the genderfluid design but with warm colours to show more liveliness and social-ness.
Resources
[
]