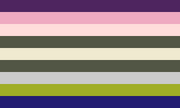 Gascoricesse is a coric xenogender connected to being a gascore princess. This gender is connected to gascore/princess aesthetics and non-binary girlhood.[1]
Its masculine counterpart is prigascoric, and its non-binary counterpart is royalgascoric.
History and Flag
[
]
Gascoricesse and its flag were created by Tumblr user Pupyzu on April 10, 2021.
Resources
[
]