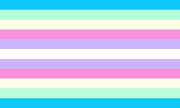 Candyic is a xenogender related to and/or aesthetically linked to candy. It can be "broken down" into certain candies. It may also feel chewy, soft, sweet, crunchy, sour, or chocolatey.
Candyic can also relate to feelings of excitement, as if one was on a sugar rush.
Candyic Genders
[
]
History
[
]
Candyic was coined by Tumblr user Gendersylvestrium (formerly ThePanCherryBlossom).[1]
Flag
[
]
The candyic flag was created by an anonymous Fandom Wikia user on November 11, 2020.
Resources
[
]