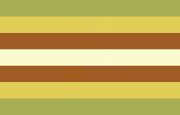 Buggender is a faunagender that is connected to anything commonly thought of as a bug. It may be used by someone who species regresses, but it doesn't have to be. This could also be an aesthetigender that is connected to bugs.
Buggenders
[
]
See List of Buggenders.
Flag
[
]
The buggender flag was made by Twitter user Trrrrav on October 15, 2020.