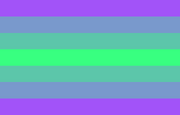 Aethergender, also known as ethergender, is an aesthetigender that feels very wide, commanding, breathtaking and powerful, linked to the vast expanse of space. It can be used as aethergirl, aetherboy, etc.[1][2]
History
Aethergender was coined in 2014 by Tumblr user RoyalGummi and posted to MOGAI-Archive.[3]
Flag
The flag was created by DeviantArt user Pride-Flags on September 4, 2015.[4]
Resources