We're Getting Mutants in the MCU - The Loop
Play Sound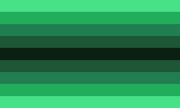 A xenogender, under the umbrella term esmogender or personalitygender, is for people that relate to the abyss and infinity. It is described as " a gender that is profound, deep, and infinite; meant to resemble when one mirror is reflecting into another mirror creating an infinite paradox." It can be used as a prefix to describe another gender.
It can be used in this context:
"My friend is abimegender!"
Abimegender
There is quite a variety of terms under the umbrella term, such as:
abimeboy; a masculine version of it
abimegirl; a feminine version of it
abimefluid; a genderfluid version of it
Pronouns
I could not find pronouns associated with it, so if someone is able to find it, please add it :)
Origins
The term was coined around September 27th, 2014 by someone on the MogaiWiki. The term comes from the word "abîme" which means abyss in french.
Ressources
http://www.mogaipedia.org/wiki:abimegender
https://www.tumblr.com/tagged/abimegender?sort=top
https://pride-color-schemes.tumblr.com/post/147164768529/abimegender
https://lgbtqiarchive.tumblr.com/post/617062067963346944/abimegender/amp